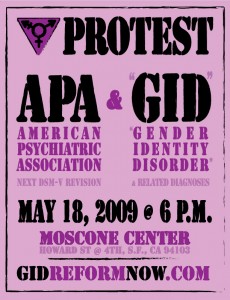 This is a repost from Andrea James' TSRoadmap.com/notes blog. She will be at the protest in San Francisco tonight, please go and support if you're in the area. Basically, we want transsexualism to NOT be considered a mental illness:
The American Psychiatric Association is holding its annual meeting next week. On the agenda will be how they plan to diagnose gender-variant people for the next decade. The trans community and allies will be holding a protest on the same day community leaders are scheduled to speak on APA panels on Monday, May 18, 2009. Join us at the Moscone Center in San Francisco, and please help spread the word about this historically significant event! The futures of our community and especially our children are at stake!

http://www.facebook.com/event.php?eid=187297865362
Also, check out Jayna Pavlin's terrific protest poster art!