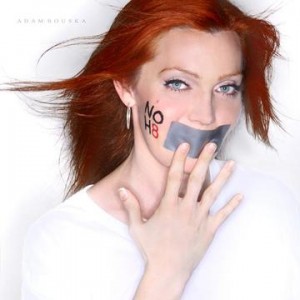 I had the great fortune to be included in the NOH8 Campaign in support of marriage for gay and lesbian people this week. The NOH8 Campaign is a photo project and silent protest created by celebrity photographer Adam Bouska and partner Jeff Parshley in response to the passage of Proposition 8.
The shoot was really fun! I went between Miss Universe 1997 (and Cal-pal) Brook Lee and Miss USA 1995 Shanna Moakler, which would normally make it difficult for me to feel any kind of pretty at all, but luckily I knew Brook from real life and Shanna was incredibly nice so I wasn't even thinking about being intimidated by their beauty. Much. I also got to watch comedy star Amy Hill and her awesome daughter (also Cal-pals) do their shoot and PSA taping, and Brook did hers with her darling little son, so it was lotsa fun.
There will be a gallery show of some of the photos April 29th, 2009 at the Hamilton Selway Fine Art Gallery.