See Calpernia Live! "Goddess" Saturdays @ 10pm!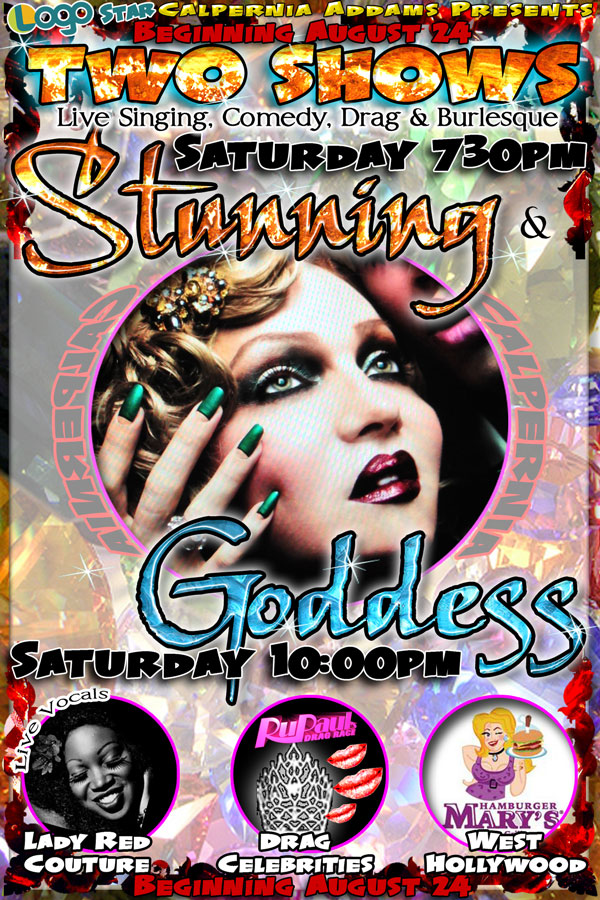 FINALLY… Something Different! Call and have us hold a table or booth for you, the room fills up quickly with a fun mixed gay/straight crowd and we often have celebrities in the audience as well!
Ph (323) 654-3800, 8288 Santa Monica Blvd., West Hollywood, CA 90046
Calpernia Presents "Stunning" @ 730pm (starting 8/24/2013) and "Goddess" @ 10pm (now showing) on SATURDAYS @ WeHo Hamburger Mary's!
Come see Calpernia perform live standards, original dance music, insane covers and comedy hosting, plus a handpicked cast of STUNNING live singers, burlesque dancers and drag performers in the show that Los Angeles loves!


LA WEEKLY (2010 Best Of LA issue, raves), FRONTIERS MAGAZINE (raves), DRAG QUEEN POSSE (raves), GAY PIMPIN with JONNY McGOVERN (raves) and others love the sexy bar staff, yummy food and $5 drink specials… come see for yourself! $5 cover. IT's WORTH IT!
Produced by Calpernia Addams

A Truly Unique Star
Calpernia has headlined events across the globe and performed alongside indie favorites such as Patrick Wolf, Our Lady J and Jackie Beat. She has given command performances for legendary celebrities and adoring audiences for almost 20 years. She performs a truly unique show, alternating original pop, club and dance music with live acoustic reworkings of popular and rare material from Old Hollywood and the 80′s/90′s/00′s. Because she performs live, her show delivers a total package experience with comedic hosting and audience interaction: a welcome break from the same-old same-old.
See what the world is saying:
New York Times Magazine – "The indelible performer was Calpernia Addams. Her act, a kind of Elvira-meets-Joan Jett extravaganza, involves loud rock 'n' roll, a great deal of strutting and shimmering and a scant sum of clothing. She has a certain Gypsy Rose Lee quality of vulnerability."
Rolling Stone- "Bright and glittering"
LATimes – "Queer Performance Icon"
Out Magazine- "Elegant"
LA Weekly – "Star", "Gorgeous", "Sizzling"
ABC.com – "Honest", "Genuine"
TMZ – "Lovely", "Wow"
Frontiers – "HOT", "Memorable", "Eloquent"
WeHoNews – "Legendary"
SF Bay Times – "Uproarious", "Groundbreaking"
Boston Edge- "Indomitable", "Impressive"
Forbes – "A Winner"
WOWReport – "Classic"
Psychology Today – "Eccentric"
JaneFonda.com – "Very Moving"